WELCOME TO RLA CUSTOM HOMES
RLA Custom Homes was formed in 1989 by brothers Randy & Bobby Aldridge. Both have many years of residential home building experience, specializing in quality custom homes in the 1800 - 4000 sq. ft. range. Currently building in the northwest Oklahoma City and Piedmont areas. RLA keeps an inventory of spec homes for showing or for those choosing not to custom build. At RLA, "We make our plans fit yours."
Thinking of MOVING to OKC?
Maybe you should!
Oklahoma City represents opportunity here for the taking, a stellar standard of living and a spirit that says "go for it!" Watch this video for more about relocating to Greater Oklahoma City.
Building Green
There is a general assumption that to be classified as "Green" you have to be "Energy Star" rated and if you are "Energy Star" then that automatically makes you "Green". This is not always the case. 
For over 25 years, RLA Custom Homes has strived to be a "Green" builder. What "Green" means to us: Installing environmentally friendly items, such as CFL light bulbs, energy efficient appliances, low flow faucets and toilets and vinyl windows with Low E glass. It also means practicing responsible building practices, such as job site trash containment, hiring subcontractors who properly dispose of their waste (who take their trash to a land fill as opposed to dumping their trash in a random field, leaving the mess for someone else to take care of), cleaning the home several times during construction (sweeping prior to carpet installation etc.), and responsible material ordering (cutting down on waste as well as helping with carbon emissions by reducing the number of trips by delivery trucks). These are just a few of the things we do here at RLA to help reduce our foot print on the environment.
Certified Energy Efficient Home

15+ Seer Air Conditioning Unit

High Recovery Hot Water Tank

96% Efficiency Rating for Gas Furnace

Blown-in Blanket Insulation: R15 Walls & R38 Ceilings

R8 Sealed Duct Work

Super Seal Caulking on All Air Infiltration Points

Plate Sealer Between Bottom Plate & Concrete Slab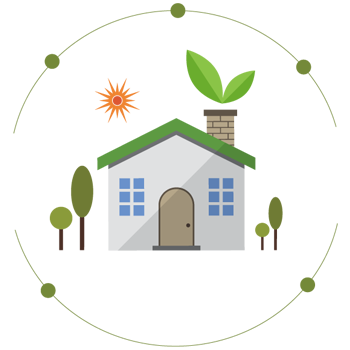 Connect with us on Facebook to stay updated on all of our projects!